Exhibition "The Princes of Monaco": ExpoProtect showcases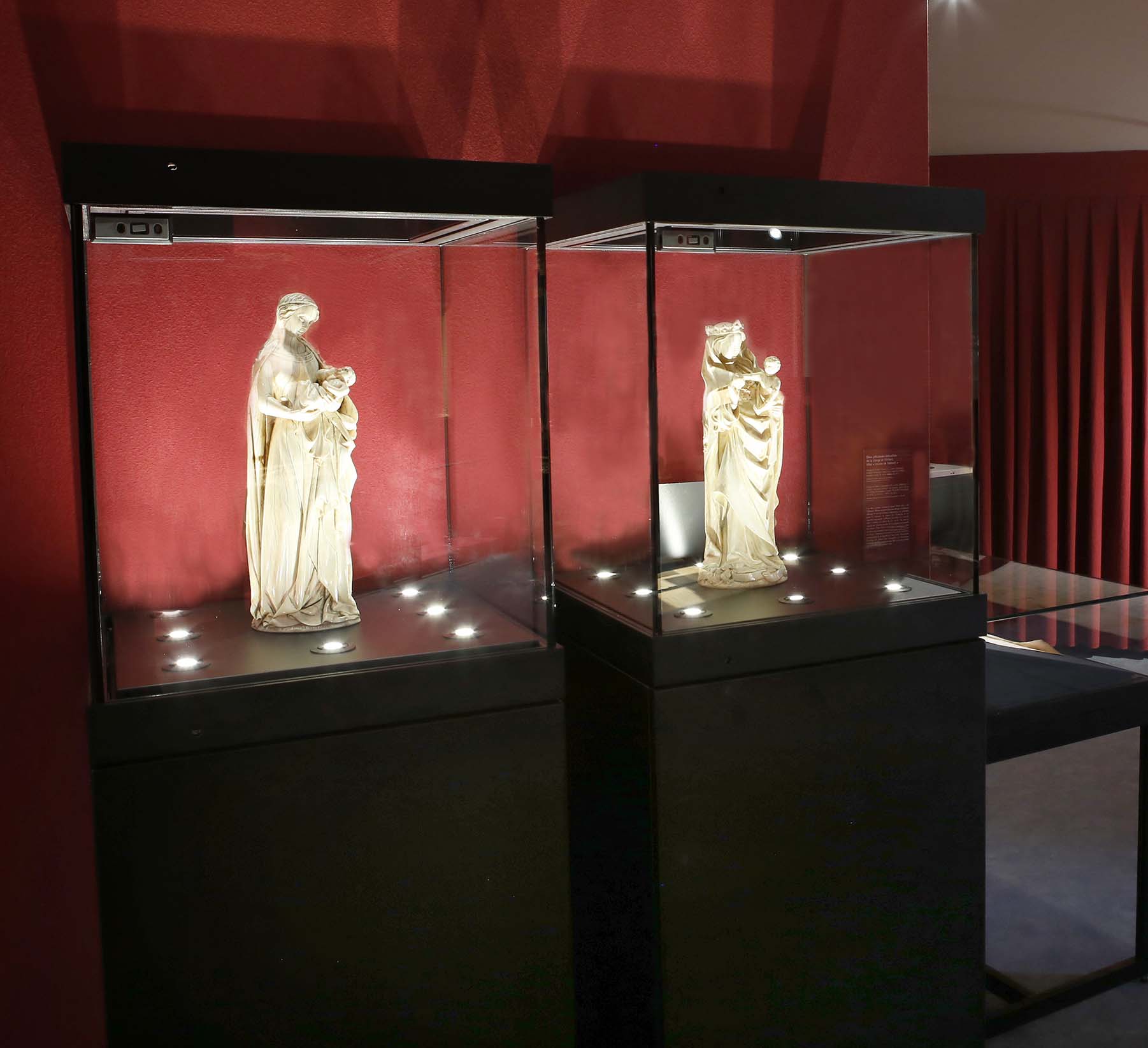 For the exhibition "The Princes of Monaco in Normandy", the Departmental Archives of Seine-Maritime called on Promuseum.
The exhibition retraces the history of the Grimaldis, Princes of Monaco, in the Pays de Caux, from 1731 to 1805, and the reasons for their presence, going back to the origins of one of the greatest families of the Norman aristocracy, the Estouteville family, direct ancestors of the current Prince Albert II.
This exhibition is the fruit of the work of some fifteen contributors who took part in the research coordinated by Virginie Jourdain. It includes around one hundred works and manuscripts, masterpieces from princely collections and various museums, including the Palace of Monaco. It presents the former possessions of the Princes of Monaco in the Pays de Caux.
Among these works are two magnificent statuettes of the Virgin and Child known as "Valmont ivories".
In order to house these major works, the archives have equipped themselves with heritage showcases to guarantee optimum conservation conditions.
They chose the ExpoProtect line because its inertia and watertightness provide the necessary requirements for the proper preservation of the two ivories throughout the exhibition.
The two ExpoProtect cloche showcases are equipped with 8.76 mm (44.2) Extra-Clear UV-resistant laminated glass.
The ExpoProtect showcases comply with preventive conservation standards:
Dustproof
Inertes
Secure
With or without humidity control
Standards XP X-002 and NF Z40-010
These showcases are also equipped with a drawer for desiccant product accessible via the base of the showcase to avoid any sudden variation by renewing the air when the doors are opened.
The Departmental Archives of Seine Maritime have chosen the Propadyn® relative humidity stabiliser, which has demonstrated, over the past two years and in many cases, its absolute effectiveness in stabilising the climate of a display case.
In order to illuminate the works, the showcases are lit by 8 LED spotlights integrated in the base, which do not emit U.V. or heat.
This exhibition can be visited virtually on the website of the Archives Départementales de Seine-Maritime: Visit the exhibition
Photo credit: © Archives départementales de Seine-Maritime
A Promuseum/Archa project