Corporate Friends® LED lighting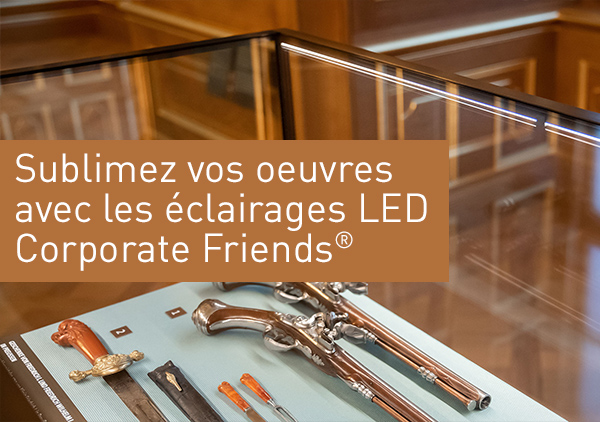 Corporate Friends®.
Minimalist and museographic lighting for shop windows
AN EXCEPTIONAL PRODUCT TO ENHANCE THE VALUE OF YOUR COLLECTIONS
- Minimalist and elegant design
- Exceptional Colour Rendering Index
- Graduable
- Very varied range to adapt to all your projects
Corporate Friends® has been designing and manufacturing for several years now lighting lines dedicated to the fitting out of heritage showcases, focusing on the minimalism of the spotlights and the demand for quality to serve the collections.
The entire Corporate Friends range has a Colour Rendering Index of 97 (R9>90 and R12>90) for exceptional lighting quality and is available in numerous models, all of which can be dimmed, either as a whole or individually.
Finally, the fine and discreet design of these lights is particularly appreciated for highlighting works of art.
Their flagship product is the magnetic rail spotlight, which allows the spotlight to be positioned wherever it is needed.
This year they were awarded the gold medal in the international design competition Focus Open 2020 for the R-SL-16 gantry crane.
THE WHOLE RANGE IS PRESENT IN OUR OFFER
In our section you will find solutions for all configurations for existing or new showcases, with lighting from above, from below, from the side, on rods or on a gantry.
Corporate Friends® LED lighting is specially designed for optimal conservation of works of art thanks to UV-free and heat-free light. They are regularly tested and certified by independent bodies.
Corporate Friends® LED Gantry Lights are slim and discreet and allow lighting along the entire length of a table display. Ideal for works of art or works presented "flat".
Magnetic LED spotlights are designed to highlight small objects.
Mounted on a magnetic rail, they can be positioned exactly where you wish.
They are dimmable and can be adjusted either by potentiometer or, for the C1-Mini-HC model, by means of a remote control pen.
The LED spotlights on stem are designed to highlight the collections as closely as possible. There are fixed rod spotlights as well as screw-on or magnetic spotlights.
Finally, for a more homogeneous lighting, the C1-mini-DL spotlight can be recessed in the ceiling or in the floor.